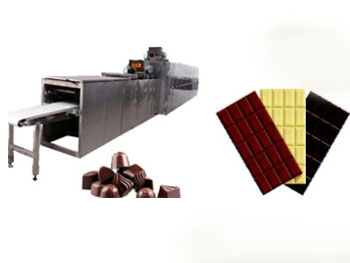 AUTOMATIC MOULDING MACHINE
We can make Center filling and plane chocolates and bar chocolates too.
Plant Build with complete MS/SS, S S.
Depositor tank build with SS304 and Aluminum head with 64(32+32) pistons operated by Pneumatic cylinders or servo motors and HMI
Mould Pre-heater with 8 IR heaters.
Hot water circulation System for Depositor and Aluminium head.
Vibration Section, Automatic de Molding system.
Total number of moulds in line 300 +/-3,
No. of moulds in cooling zone 250.
Moulds travel time 40 minutes in cooling zone @ speed of 8 moulds per minute and 45 minutes total cycle time.
Moulds travel time 32.5 minutes in cooling zone @ speed of 10 moulds per minute and 36 minutes total cycle time.
Multi-Tier Cooler with 30 TR semi sealed Emerson / Bitzer compressor with water cooled condenser.
Well insulated Doors.
PLC human interface operation
---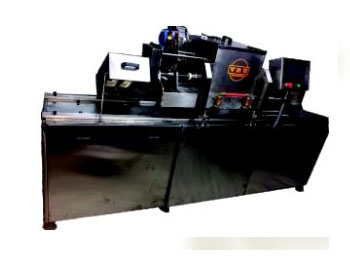 SEMI-AUTOMATIC CHOCO DEPOSITOR
The semi Automatic moulding line is for chocolate deposit forming. The whole process includes: Moulds tray, Mould pre heaters, depositing, and mould plate vibrating.
Plant Build with duly painted strong M S Tubes. Or (S S)
Inner partitions, where the product may have chance to contact are made with SS 304.
Using chain conveyer with Speed up to 10-12 moulds/minute.
Hot water circulation pump with suitable tank.
Hot water circulation for hopper and Al head
It is suitable for the factory which has many varieties and medium production capacity.
PLC human interface operation.
Pistons operation Pneumatic or servo system
Rotary operation by pneumatic system.
---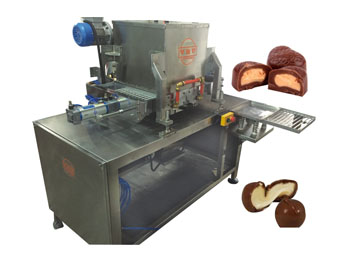 MANUAL CHOCOLATE DEPOSITOR
This is Manual type filling machine. Set the mould bottom of the chocolate nozzle plate .Push button or Pedal is used to perform filling.Weight settings may be performed manually using screw system for pneumatic system. Small Chocolate Moulding Machine is mainly required by start up confectionaries, bakeries, and cake shops. We provide vibrater to removes air bubbles.
25-30 capacity of chocolate hopper (S S*).
2kw. total power.
Pneumatically controlled or servo system.
Hot water circulation for hopper and Al head
Water reservoir with heater,hot water pump
Center filling also.
Frame made of MS/SS or S S.
PLC human interface operation
---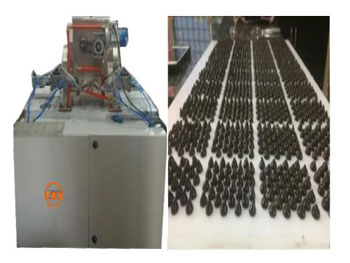 AUTOMATIC CHIPS DEPOSITOR LINE
Chocolate chips production system is made by VRU.
VRU-CD-1100 production line is designed for producing collets & chips chocolates with a tail on top and with out tail. This line contains one or two chocolate depositors, Attached with cooling tunnel.
25-30 capacity of chocolate hopper (S/S*) with stirrer Motor.
Pneumatically controlled/servo system.
Chip weight: 0.1gr-2gr,
Chips per stoke 1150 (belt width 500).
8 To 10 Stokes Per/Min.
Movable FRAME
PLC human interface operation
Hopper stirrer motor 0.35Kw
Chocolate paste temp 32-45ºC
---